Provence Lavender Fields Photo Tour (June 30th - July 5th, 2020)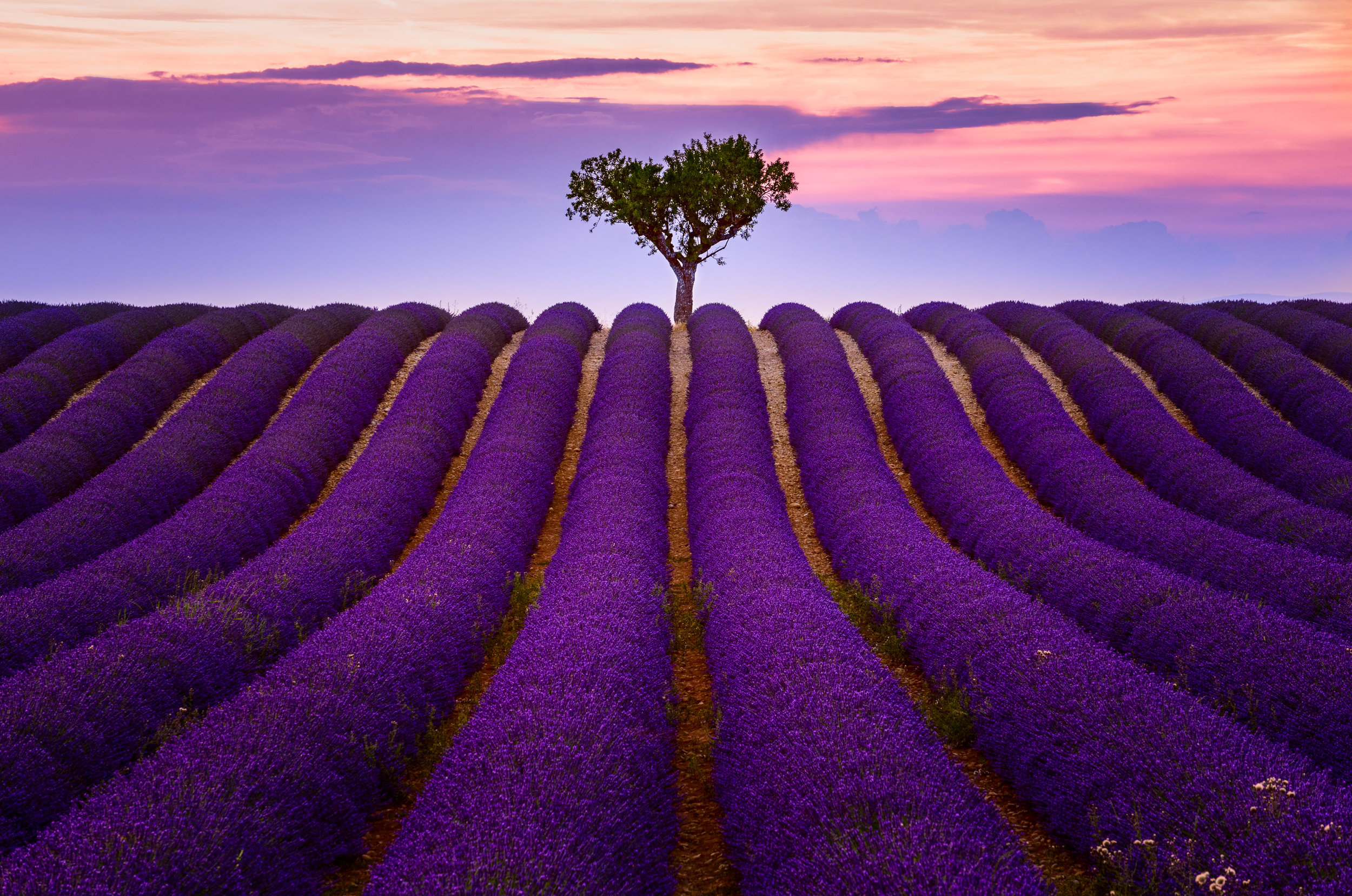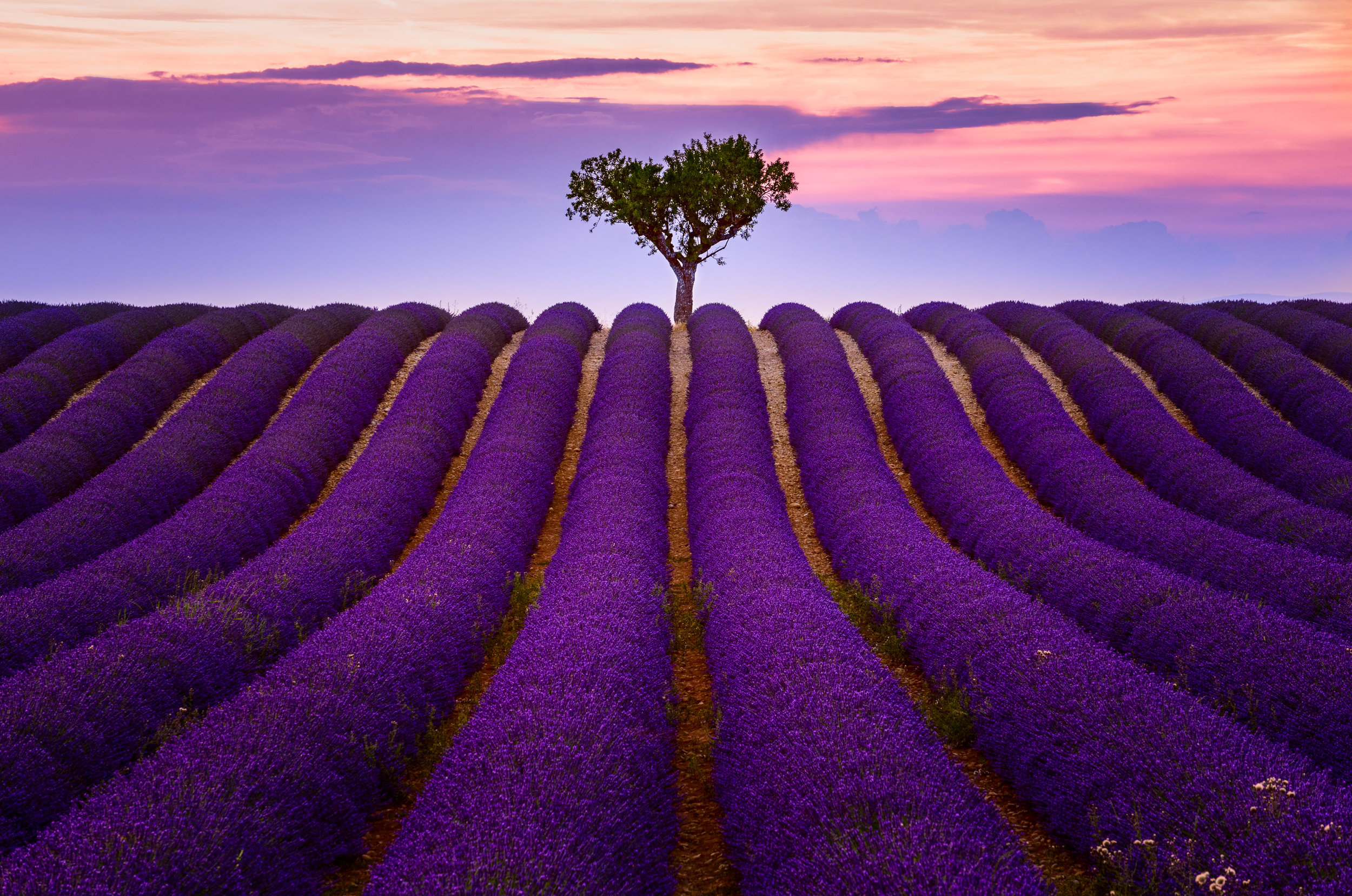 sale
Provence Lavender Fields Photo Tour (June 30th - July 5th, 2020)
Price: CHF 3,245 Super Early Bird (Book before 01.12.2019 - Full Price: CHF 3,500)*

*Please contact us if you would like to split your payment.

Accommodation: twin room share
Single room supplement: CHF 450

Course Level: Beginners, Intermediate

Instructors: 2 professional photography instructors

Duration: 6 days

Max Participants: 7

Language: English (Group Conversation)

English, Swiss German, Italian, Russian (1:1 Conversations)

Location: Valensole, France
SUPER EARLY BIRD PRICE: CHF3,245 per person twin room share (Full Price CHF 3500)
(Book before 1.12.2019 and save CHF 255)
You will take part in a 6-DAY EPIC PHOTO IMMERSION that will help you improve every aspect of your photography.
The colors, the noises and the scents of the lavender fields encapsulate the essence of Provence. In summer the landscape of this area in the South of France turns into a painting when the lavender reaches its full blooming: a strong and irresistible attraction for bees, tourists and photographers. Also the Sunflowers bloom in this period of the year and sometimes is possible to capture amazing compositions that highlight the strong chromatic contrast between these purple and yellow fields.
Your days will be full of learning, adventure, aha moments and meaningful connections!
Some lavender fields are so large and extensive that you can walk with the impression of being immersed in a purple and perfume sea. Flowers extend in every direction, until eye can see. A truly amazing experience! Sometimes this amazing spectacle is made even more special by hot air balloons flying over the horizon. An unusual and catchy subject for our photos! Don't forget to bring back home some dried lavender or lavender essential oil at the end of the trip: its scent will remind you of the great memories and moments you experienced in Provence.
This tour is designed not only to showcase the magnificent photography spots planned according to the best light, but also to teach you the correct camera settings and techniques, boost your creativity, master your composition, photography and post-processing skills. You will learn how to turn a simple picture into an extraordinary image using your creativity and photography expertise.
Lavender Photo Tour Itinerary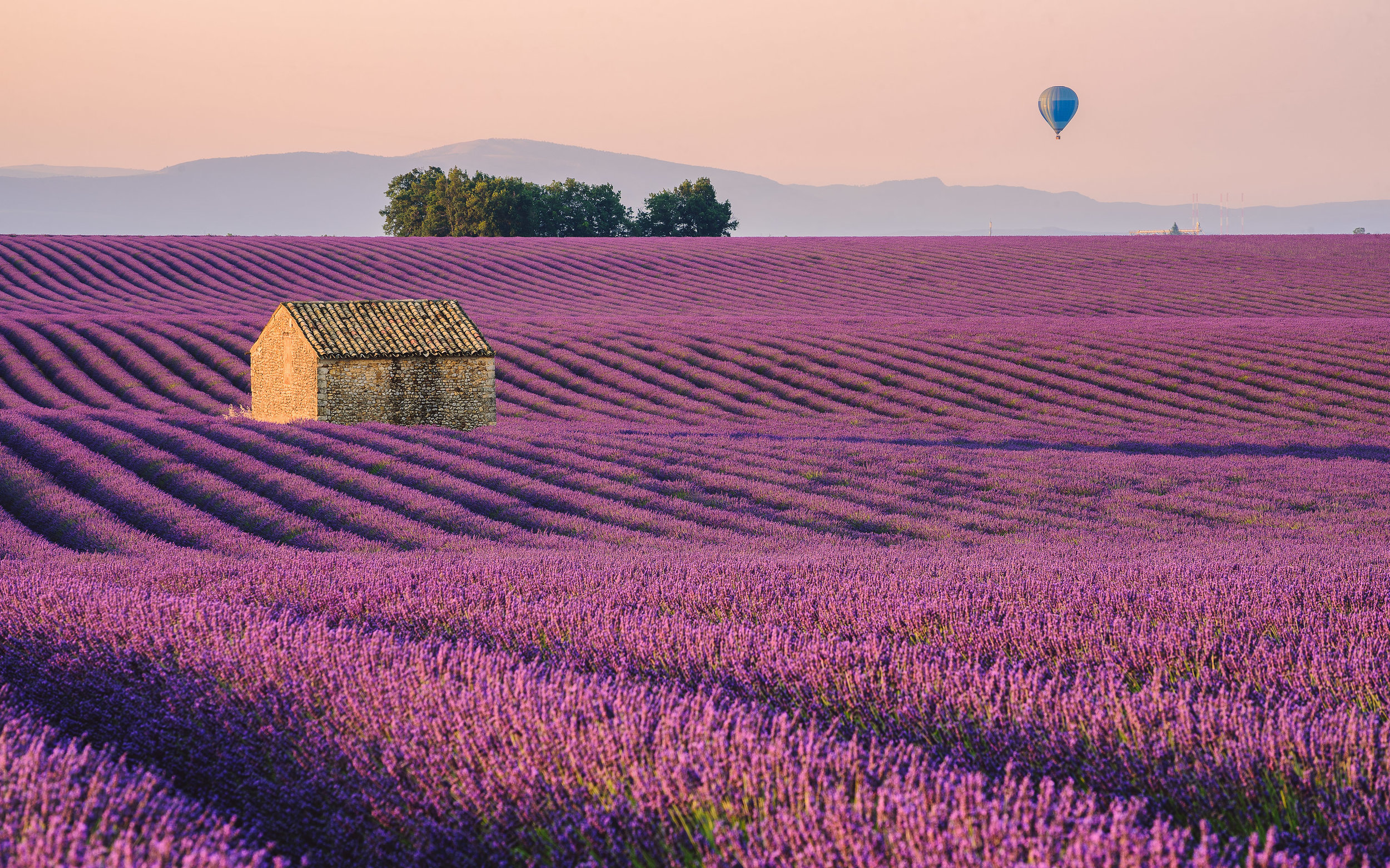 Meetup in Nice Airport at 13:00. We will then drive to the hotel in Provence where we will spend the next days. We will start our adventure with a sunset photography session at the Valensole plateau to enjoy right away the beauty of Provence.
During the second and third days will capture sunrises and sunsets in Valensole, among flagrant and purple lavender fields. Daytime will be devoted to post-processing workshops, relax and the visit of the canyon Gorge du Verdon and other historical and natural landmarks in the area.
We will then visit the towns of Gordes, the Abbaye de Senanque and its lavender fields, and other cozy little towns and the ruins of Oppede-le-Vieux. We will also concentrate on Aerial Drone photography and videography, covering both theoretical and practical exercises, and on light painting techniques.
In the morning, we will capture another sunrise in the lavender fields, and then we'll be off for a last delicious breakfast in Provence. We will bring you back to Nice Airport at around 13:00.
Aerial Photography sessions with drones
The beautiful lavender fields, the sunflowers and the iconic lonely trees offer an incredible opportunity for aerial photography. The fields create a stunning mix of colors and shapes that we will learn to observe and capture from above. During our workshop we will have a dedicated session with drones to offer you a direct experience with this new discipline that allows to observe and admire our world from an unusual point of view. So many new possibilities to explore from above!
Milky Way night photography workshop
We will come back again to the lavender fields at night to concentrate on astrophotography and capture the Milky Way. It is important to be in the right place at the right time, since the Milky Way is only visible in all its glory at precisely calculated times. Furthermore, to properly capture this sky phenomenon special photographic knowledge is required. This will be also covered during this workshop.
Bonus: Light Painting in the Lavender Fields
We prepared a special creative surprise for you for our Night Photography sessions! Experiment and create unique masterpieces with our advanced light painting techniques!
DATES AND PRICE
30 June - 05 July 2020
Super Early Bird Price: CHF3245 per person twin room share (Book before 01.12.2019)*

*Please contact us if you would like to split your payment.

Early Bird Price: CHF3345 per person twin room share (Book before 01.03.2020)

Regular Price: CHF3500 per person twin room share (Bookings after 01.03.2019)

CHF450 single room supplement
INCLUDED IN THE PRICE
Breakfasts

Snacks and refreshments

Hotel

Minivan transfers in France

Workshop classes lead by professional photographers
NOT INCLUDED IN THE PRICE
Flight tickets to and from Nice

Lunch and Dinner Meals

Visas (if applicable)

Medical and travel insurance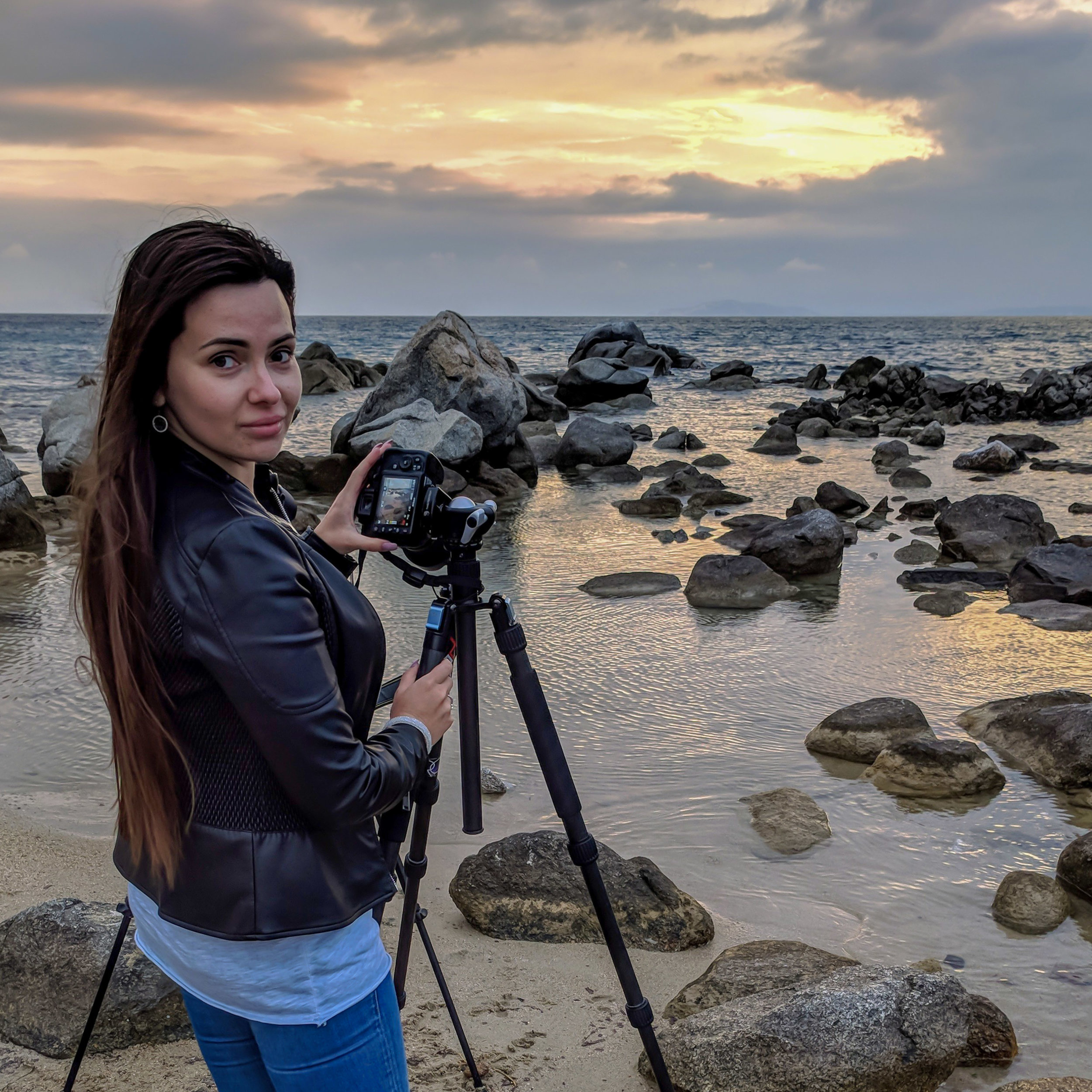 Riga, Latvia
One of the most exciting things that have happened in my photography journey! I wanted to thank such talented guys once again for this amazing experience and already two unforgettable photo tours! I was really lucky being a part of their team, and I enjoyed a lot friendly, even familial but still professional atmosphere during both of our trips. It was also pleasant to notice that due to a very limited number of participants (unlike some other photo tour groups that I heard of), our instructors were providing an individual approach to each and every member of the crew; and especially for young photographers like me who are just at the beginning of their journey, I found it super important. Looking forward to joining you next time!
Zurich, Switzerland
I want to thank our workshop leaders Raffaele and Nika for organizing such an inspiring, fun and educational workshop. I have been on two trips with them now and can't wait to go on another! The workshop was very well organized, the itinerary was well thought out and gave us great photographic opportunities. Raffaele and Nika provided excellent leadership, from knowing best times and locations to giving great advice on composition and camera settings to capture the mood. It was a wonderful experience that truly exceeded my expectations! I highly recommend these guys to anyone considering a future photography workshop or tour.
London, UK
Without Raffaele and Nika I would never have travelled to these locations in Sardinia and get the opportunity to photograph amazing landscapes. The trip was full of adventure, nice weather, epic light, amazing locations, fun, laughs and the chance to make some great friends. Thanks, Raffaele and Nika for the expert knowledge of photography and Sardinia island. This was no ordinary tour but rather a very unique look at Sardinia. One that in many respects was a 'behind the scenes' tour that the average tourist simply does not see. Photographically it was very rich training. The group was small which maximised the experience and learning. I have to mention also the great local food we had every day in different restaurants or even homemade food in agriturismo. Thank you again for your expertise and for showing us the unknown and exclusive areas of Sardinia. The images are stunning and will travel again with you.
Baden, Switzerland
I am so glad that I have joined Raffaele's Photography Workshop in Provence. The two instructors, Raffaele and Nika have provided sufficient guidance to each of us and care about the photos that we are taking. Their field advice was very useful, helped me improve the photos in particular the way of compositions. The workshop was well organized and the places we went for shooting are spectacular. This workshop not just offered me a great trip to explore the beautiful Provence, it was also a good learning opportunity in the path of photography. The whole journey was filled with happiness and satisfaction, I brought back nice photos and an unforgettable experience.
Baunei, Italy
An amazing demonstration of technique, taste and creativity, this in synthesis was the Sardinia Workshop with Raffaele, Nika and Federico.
Clear and concise explanation method: first, a briefing on composition, post-production, use of filters, etc. Secondly, in the field with focus on settings for perfect long exposures and practical advice on the use of ND and polarizing filters.
Highly recommended, it was really worth it!
Santa Maria, Italy
Exceptional experience, where I could learn some secrets on photography and especially on the use of some essential accessories to take full advantage of some photographic techniques and post production. Federico and Raffaele were very helpful and very professional! Experience to be repeated absolutely.
FAQs
When is the Lavender Fields Photography Tour?
Tuesday, June 30th until Sunday, July 5th. We'll arrive to Valensole on 30th afternoon and depart the morning of the 5th of July.
How do I get there?
You simply need to fly to Nice Airport and we'll meet you up at 13:00. We'll drive together to Valensole.
Can I fly to Marseille Airport.
Yes. However, you'll have to organise your own transportation to and from Greoux-les-Bains (there is a bus from Marseille). You should arrive before 5pm to not miss the first Sunset session.
What to bring for the tour?
To bring home contest worthy photographs and maximize the experience of this workshop, we recommend specific camera gear and equipment. We will send you our Recommended Equipment list before the tour. It is important to come properly prepared for the climate in terms of clothing, shoes, outdoor apparels and equipment to be able to capture the best photographs in the most comfortable conditions! We also recommend to have some white, yellow, purple closing to capture some nice self portraits for the memory.
What are the Hotel facilities?
The hotel is equipped with loads of onsite facilities to help us relax and switch from photography. Facilities includes:
300mq fitness center: Covered heated swimming pool, six-place sauna, 6-8 place steam room.

Aquagym or Aquabike.

Outdoor pool.

Archery in the forest, three tennis courts, multisports ground (basketball, hand‐ball, volleyball, football), beach volleyball ground, bowling alley, two children's playgrounds.

Animal farm.

A free shuttle service to the thermals baths is available from Monday to Sunday.

Treatments and massages.

Horse riding lessons are available on site.
Can I rent a camera or lenses?
Sure, just let us know in advance and we can organise photography equipment rental free of charge!
Do I need to bring a computer?
It's not essential, however we will have post-processing sessions. While you can watch anything we do and make your notes, we are encouraging you to bring your own laptop or at least tablet to practice post-processing techniques with us. The best learning comes through practice and hands on experience!
What is the cancellation policy?
We hope you don't need to cancel your spot, but if a situation arises where you don't have a choice, our cancellation policy is the following.
1) If you cancel and your place is filled, we will refund you the full amount you have paid towards the tuition, minus a 340 CHF service charge.
2) If you cancel and your place does not fill, then you will be refunded according to the following schedule, based on the full fee of the Photo Tour:
Greater than 120 days from the Workshop start date: full refund minus 340 CHF service fee.
90-120 days or more: 75% refund
60-90 days or more: 50% refund
Less than 60 days: no refund

If you would like to cancel the Photo Tour, you must send us an email notification. Please note your cancellation is not considered official until you have received a return email confirmation acknowledging your cancellation.

Refunds will be paid by the same method that the original payment was made.
What if I have more questions?
Give us a shout at info@swissschoolofphotography.com and we'd be happy to help with whatever questions you have!